New York City

---
Well they say New York City is the city that never sleeps. And I can attest to that fact. Even in our hotel, we constantly heard people going in and out of their rooms, making a lot of noise! Right.. well in February 2000, myself and my friend Christina had the opportunity to visit the exciting city of New York! We took a bus on Monday night.. it was a 10 hour bus ride and arrived in the Big Apple Tuesday morning. We barely got any sleep, because I think we were both really excited, but also because there were a lot of stops. I don't know about Christina, but I can't really sleep in cars or buses, or anything that's moving really! So we arrived Tuesday morning, I can't remember what time it was exactly, but I think about 9 am or something crazy like that. We went to our hotel and tried to get some sleep. For some reason, I couldn't do this either. So I let Christina sleep for about an hour or so... and then off we went to explore this wonderful city!

Day 1
So we're in New York City... and the first thing we decide to do is go to Times Square. I was really excited about this because of all the cool stores and because I never got to visit Times Square when I went with my family to New York about 7 years ago. So we looked around at all the stores. This was exciting, because they had an HMV, which is my one of my favourite stores! And I got to by some Westlife CD singles. After we went to Times Square, we walked to Radio City Music Hall and to the NBC studios. We then headed off to Central Park. We walked a lot that day and we were both really tired. But we decided we had to see the Empire State Building at night. So we went to the Empire State Building and enjoyed the view from there.... it was incredible! Anyway, after this we were both exhausted and also a little scared! You know what they say about New York City at night.. so we headed back to our hotel.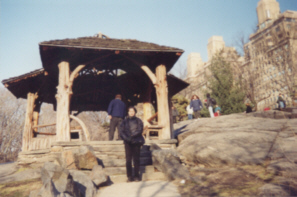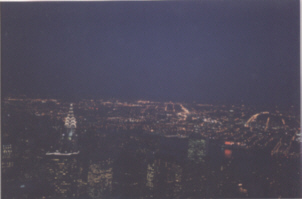 Times Square Me at Central Park The incredible view from the Empire State Building
Day 2
Today I went to meet one of my favourite bands Westlife at a TV studio. I dragged poor Christina along and drove her nuts I think! I was annoyed because of all the stupid stuff the TV people made us do, but in the end it was nice because I finally got to meet Westlife. And they were really nice...
Day 3
Today was not really a sightseeing day, which was okay by us because we figured we'd seen a lot of the sights already. And to tell you the truth, we were a bit bored. So we went to buy our tickets to Rent, as everyone says you have to see a Broadway musical.. and I will attest to this! It's definitely a must-do if you are in New York City. Afterwards we met up with a friend's friend and attended her 21st birthday celebration, so that was a lot of fun!
Day 4
Our last day in New York City. We saw all the sights that we didn't get to see on Monday, which involved a lot of walking. We went to the Statue of Liberty first, followed by Wall Street and then China Town. Too bad the weather wasn't as co-operative as it had been over the past 3 days. It had been really warm and beautiful, which surprised me, because it was only February. I didn't even need to wear my winter jacket. However, today it decided to rain and be freezing cold, not a very good day for all the walking we were about to do. The Statue of Liberty was a lot of fun. Then we headed off to Wall Street. I really enjoyed this because you always read or hear about it, so it was nice to finally be able to visit Wall Street in person. The walk to China Town though was incredibly long! By the time we got there we were completely exhausted. I spent most of my time at China Town trying to go into stores to keep warm! We had a really nice meal there and then Christina and myself headed off to see Rent on Broadway. We stopped at the hotel first to pick up our luggage, as we would be leaving straight from Rent to catch the bus home. It was funny because Christina had this huge backpack and I had my small suitcase and we had to lug it up the stairs to get to our seats, which were in the balcony! People were looking at us like we were really weird! Anyway, we had a pretty good view and ended up really enjoying the show! In fact it was the main highlight of our whole trip I think! The cast was superb and I found myself totally enthralled with the storyline, the acting, the music! Chrstina and I must have clapped and clapped and clapped because our hands were really sore afterwards! We totally loved Roger... the actor who played him was gorgeous! Anyway, so afterwards we headed back to the bus station. We were really tempted to stay one more day and go see another musical, but in the end we decided not to. We sort of ran out of money (I had bought a lot of CDs!) and we weren't sure what we would do during the day, as we felt we had seen all the sights! Anyway, we had a really great time in this lovely, lively city. I didn't buy much in the terms of souviners... just a snow globe to add to my collection and a few post cards. Oh and that HMV bag you see me holding has my Boyzone box set in it. Let me tell you how hard it was to carry that thing around.. and as I grew more tired, it got progressively heavier to carry. But it serves as a constant reminder of the amazing time I had in New York City! And on the bus ride home this time, I finally managed to get some sleep....


At the Statue of Liberty The New York Stock Exchange Myself and Sharon at China Town Rent


My Rent ticket stub


---


Home