My Trip to England and France
---
In late August and early September of 1999, I had an opportunity to visit these wonderful countries - England and France. In England, I visited London, Cambridge and Canterbury. In France, I spent my time in the beautiful city of Paris. I had such an amazing time in both of these countries, I was saddened when I had to leave. Anyway, here is a breakdown of what I did and some of my thoughts from my journal.
Day 1 - We arrive in London Gatwick airport at around 11:45 am. Got picked up at the aiport by my cousin. Didn't do anything basically. Just slept as we had an overnight flight from Toronto to London and I got no sleep on the plane.
Day 2 - Went to Tower Bridge, which was just lovely. Walked around there for a bit and then went to Trafalgar Square. Didn't enjoy myself too much there as there were loads of pigeons. I don't like pigeons so you can imagine what it was like for me there. The rest of the family had a marvelous time feeding all the pigeons. I just kept worrying that one of them was going to poop on my head! Went to the Houses of Parliment afterwards and saw Big Ben, which was really impressive. Went to Westminster Abbey afterwards and had a look around. Then we headed off to the famous Harrods department store. It was really crowded and everything was pricey and expensive. I didn't have the best time there because I kept getting pushed around. Afterwards we went to Picadilly Circus and Leicester Square which were really nice. Full of people... full of excitement... however once again it was really crowded and everywhere you turned you would bump into someone. However I loved being there and looking around all the record stores and souviner shops and things. I had so much fun, however I was really exhausted at the end of the day. I must say that the architecture is really nice over here. Everything is really old and lovely. I'm also very impressed with the underground. It covers so much more of London, and has many lines, as opposed to the TTC, which only has like 2 lines. Anyway, finding our way around London hasn't been as difficult as I had thought. And the trains are really comfortable as well. They have nice plush seats.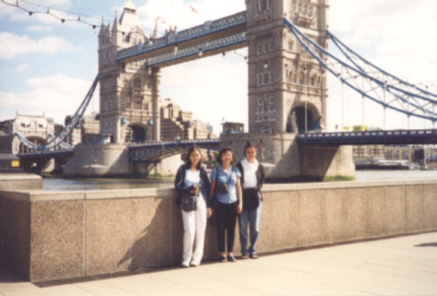 Me and my cousins in front of Tower Bridge and A nice view of Tower Bridge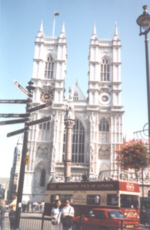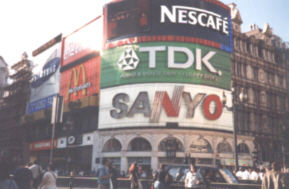 A nice view of Westminster Abbey and the ever busy Picadilly Circus
Day 3 - Went to Buckingham Palace today and saw the most impressive changing of the guard. There were tons of people at Buckingham today, it was nuts! Saw the state rooms in the palace as well, which was really nice. Went to Oxford Street, which is one of London's most famous shopping streets. They had loads of great stores there. It was so crowded on Oxford Street, everywhere you turned there was someone else in your face. It was kind of frustrating at times, but just being there was a lot of fun.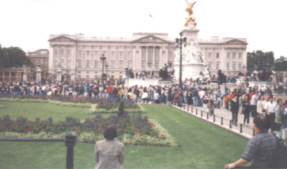 Buckingham Palace on a busy Sunday morning
Day 3 - Went to the world famous Madame Tussaud's wax museum and the London Planetarium. Had to wait about 1.5 hours in line to buy tickets, but it was well worth the wait. Every wax figure was so life like, they had really done a good job. Had a great time getting all our pictures taken in front of the wax figures of our choice - hey it'll probably be as close as we get to the real thing! Got my picture taken with Brad Pitt, Mel Gibson, The Beatles, Sean Connery, Oprah Winfrey, just to name a few. The London Planetarium was quite boring actually. Maybe it would have been more interesting if I had gotten a proper night's rest. I ended up falling asleep during the presentation. I regretted this, but oh well, it couldn't be helped. Went to Oxford Street again and looked at all the souviner shops. We must have been in every one on the street.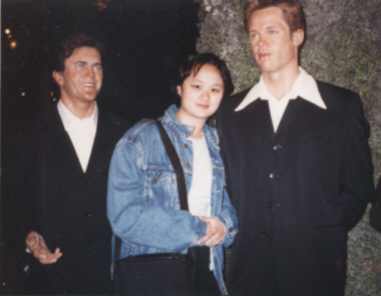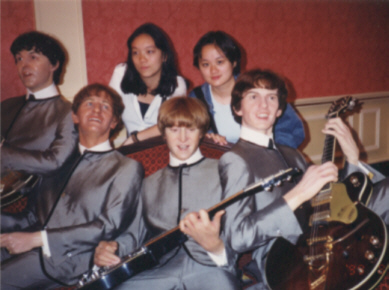 Me schmoozing with Brad Pitt and Mel Gibson... and me and my cousin with the Fab Four... Nah they're just wax figures at Madame Tussauds
Day 4 - Went to Margate today to see the hospital where my cousin works. It didn't look like the typical hospital that I am used to in Toronto. It felt more like a nursing home or something. Afterwards we went to Canterbury to see the world famous cathedral. Got there just as it was about to close. However, we still had enough time to have a good look around. Afterwards we had a look around all the shops and things in the main area. I really had a great time here, everything was so cute and lovely. I would have loved to have spent more time here.

Me in Canterbury... lovely!!!
Day 5 - Went to Westminster Abbey again today, this time to have a proper look inside the abbey. I was really impressed with it all. Everything was so ornate. Afterwards we went to Notting Hill. Mom was really keen on seeing the place that had been portrayed in the movie. It had been beautiful up until this point. It started raining while we were in Notting Hill but only for about an hour or so and then it stopped. Walked around a bit to see if we could find the bookstore where the movie was filmed or the park. Had no idea where we were going basically, so we stopped and asked a guy who works for the underground to see if he could help us. He was really nice and helpful. Told us most of the movie had been filmed at Portobello Road and that the bookstore was just off there. Up until this point I had assumed that the bookstore was a Hollywood prop, but I guess I was wrong. He also gave us directions to where the green area was for where the park scenes were filmed. I think he thought we were a bit weird, but he was still really nice about the whole thing. Found the little park where the park scenes are filmed. It was a private park, so we couldn't actually go in. Afterwards we walked down Portobello Road and found the travel book shop. It looked exactly like it did in the movie, except for the fact that it looked larger in real life. Anyway, there were these other tourists there as well who had come to see the shop, which was really funny as we thought we were the only nutty ones! It was nice though just walking around with mom.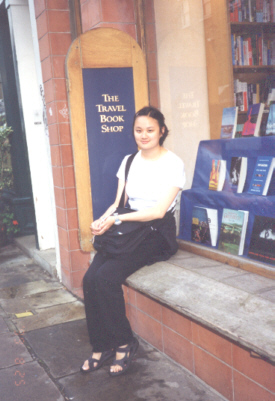 Me in front of the Travel Bookshop in Notting Hill... yes it's the one from the movie!!!
Day 6 - Went up to Cambridge today to see the famous university and meet up with a pen pal of mine who I have been writing to for about 4 or 5 years now. Got on the train to Cambridge early in the morning. I was really nervous about meeting my pen pal. What if we didn't get along in real life? Anyway, got to Cambridge and had no problem finding my pen pal Sarah. She was waiting exactly where she said she would be and was wearing exactly what she said she would. She took us to Cambridge University, which was really nice and different to the university that I go to. It was smaller, but a lot nicer. It was just really beautiful there, it had the nicely trimmed, really green grass and the beautiful architecture. It also had the nice river running behind it where you could take a ride down the river in a gondola. I really had a nice time there, the only part that was open to the public was King's College. So we had a look around there. The weather was just gorgeous. Really warm and sunny. Afterwards, Sarah, my cousin and I just had a look around all the shops in Cambridge. They actually had a mall there, which is really rare. It was quite small, but still nice. Sarah also took us to a pub. It wasn't as exciting as I had expected, but it was still nice. A quiet, laid back atmosphere. There weren't that many people there as it was the afternoon. Left at about 5 pm or so. Decided it was too early to go home, so we went to Picadilly Circus and hung around for a bit. I really had a great time in Cambridge and meeting up with Sarah was great too. She was really nice, the type of person where if she lived in your city, you know you would have been friends with her right away.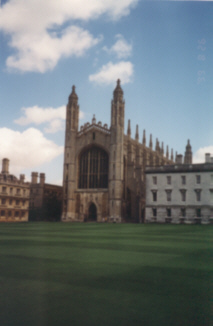 A picture of King's College in Cambridge and a picture of the river that runs just behind Cambridge university. See how lovely it is?
Day 7 - Didn't do too much today. Basically just sat around and recovered from all the sightseeing and walking that we've been doing. In the evening went to the BBC studios to meet a friend of mine, Becky. Watched a show called "With Friends Like These" presented by Ant and Dec. It was a really fun night. They fed us sandwiches and there was a really entertaining comedian there who kept making all these funny jokes. The show itself was kind of like a competition between a team of boys and girls. They had to compete in a series of events, and whoever won the event got the point. In the end whoever wound up with the most points won the trip. The actual filming wasn't finished until about midnight I was told, however we left at around 11 pm in order to catch our train back home. London has an amazing nightlife. Even though it was around 11:30 pm when we were on the train, there were still loads of people everywhere heading off to various clubs and things. The train was even packed. We had to stand and it was really crowded. I was surprised by this. Anyway, it was a really fun and entertaining night and I am glad that I went.
Click here to read the second part of my diary.
---